Legions of Leeches...For Real this Time
Sooo much has happened since my last entry. I hope I can remember it all. Got another facelift as you can see. The other just got too bogged down. Was going to build up from scratch, but decided that this template could be altered slightly. It looks better than it does here, but I have a bunch of picks on this entry. It threw my sidebar stuff to the bottom of the screen. I need to take a web design class or something. It is, other than that, the look I wanted. Thank *insert deity of choice* someone else did all the work.
So this guy that I was hanging out with thought we were dating. It is an easy mistake for anyone given the fact that I specifically said, "I am not looking to date anyone right now. I am just building up my friends in the Jackson area." Honest mistake right? Well, like I said, he decided that we were together. I was busy my last off week with things that keep me busy. He called me at least fifty times in two days. This wouldn't have freaked me out, okay so it probably would, but I told him I would not be around my phone. He also filled my text message inbox. He also sent me about a million offline messages on Yahoo messenger. Again, all things that I probably could have handled. Well, probably not. Anyway, the final straw was when Father O'Flannigan and I were hanging out and getting snotty drunk after a week of not speaking to one another.
It was around two in the morning and we'd just finished watching
Catwoman
, a movie that I will not even waste my time linking as it was the superhero genre equivalent of
Darkness
. We started watching some movie called
Toolbox Murders
, another complete bust, when there was a knock at the door. BUM Bum bum... (dramatic effect, huh)! Father O looked at me and I looked at him and he looked at me looking at him and I looked at him looking at me looking at him and then I got up to answer the door.
Before I'd reached the bedroom door, someone began beating on my bedroom windows. Father O was scared. I was drunk. I answered the door.
"Hey. Where've you been?" What the hell?! Guy had shown up at two a.m. to ask how I have been. He looked terrified and short of breath. Freaked my freak in a bad way to tell ya the truth. To lie, I was happy he had stopped by unannounced in the middle of the night while I was drunk and proceeded to scare the crap outta Father O and my liquid happy ass. It
was
, admittedly, the best scare we got all night. Anyway, I wedged myself in the doorway to block him from just bursting in. After maybe three minutes of drunken back-and-forthery, he left noticeably hurt. Father O and I, of course, analyzed/belittled his crazy ass and his seemingly psychotic nature until I drifted off (passed out) into a peaceful (alcohol induced) slumber (coma).
The next afternoon, Wednesday, we were both asleep, midnight shifts..., and both woke up to what we thought was someone coming into the house, walking around, then leaving. We sleep on opposite ends of the house and both heard the same thing. Had it not been that way, either of us could have just left it to a fucked up, pointless dream.
The next morning, after working a long twelve hour midnight shift, I came home to pass out and rest up for another grueling day at the office. Not so much grueling as unwanted. I'm sleeping. And sleeping. And sleeping still. Then someone walks into the bedroom. Father O is still awake, so I assume it is him. Plus, the room is dark and I am halfway between sleep and consciousness. It was a tall, slender figure, not unlike Father O, but it moved with the mannerisms of a chicken. Who do I know that bobs and weaves and pecks and struts like that? Guess. I kept my eyes closed hoping he'd see that I was asleep and simply leave. He left the room and returned a moment later to hover over my seemingly sleeping body. All of a sudden he sat on the bed beside me and began to shake me violently. I pretended to be startled into consciousness which wasn't hard considering the shaking freaked me the fuck out. I looked at him, asked what he was doing, then proceeded to be put on a guilt trip. I honestly expected him to show a bare ass revealing where the still wet word "Preston" had been carved with a spork. Instead I was given a lecture about all the things that I owe him because he has had a shitty life. This pissed me off. I can handle alot, but that was too much. No one has had a great life. Deal with it or have a pity party table of one. I mean don't drag my ass into it. I've only known ya a week, bub. I told him to go and that it'd be best if we cut off all contact. I'll probably be killed within the week.
Next on the veranda, my wittle Zoieuypqxr had her first birthday party. She is such a doll. Dats my baby girl. Here are some pictures of since I am not sure if I've posted any of her yet. She just had her first birthday party Monday. She was born July 2, but when you are born that close to a holiday, it's just easier to gather the tribe on the holiday.
This is from around Easter. I think we were getting shoes for her that day or something. Isn't she beautiful? I don't have to ask. I know she is.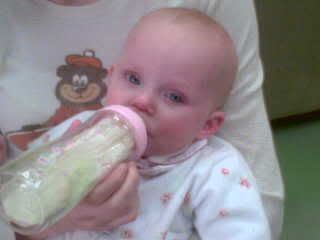 Baby girl feeding.
This was after Easter. My bittle baby durl.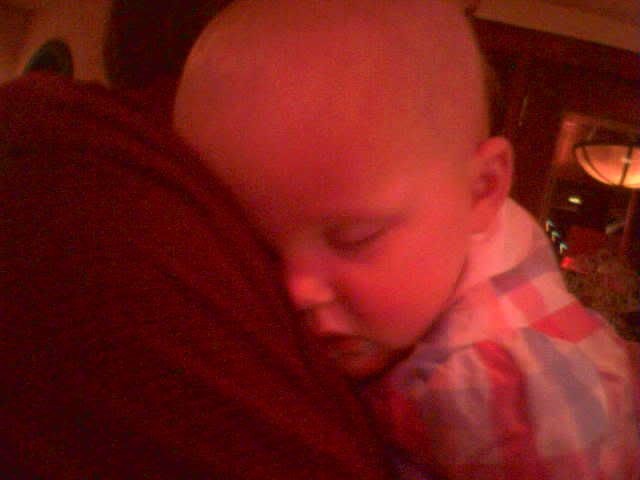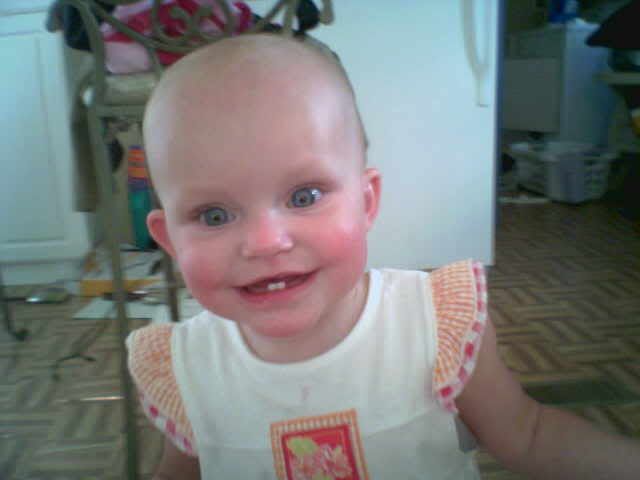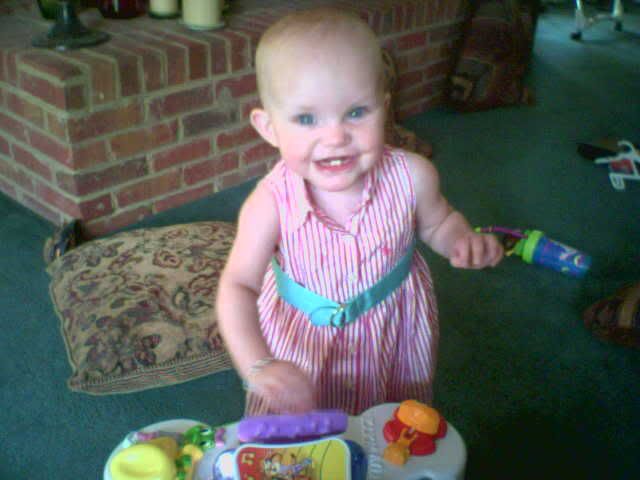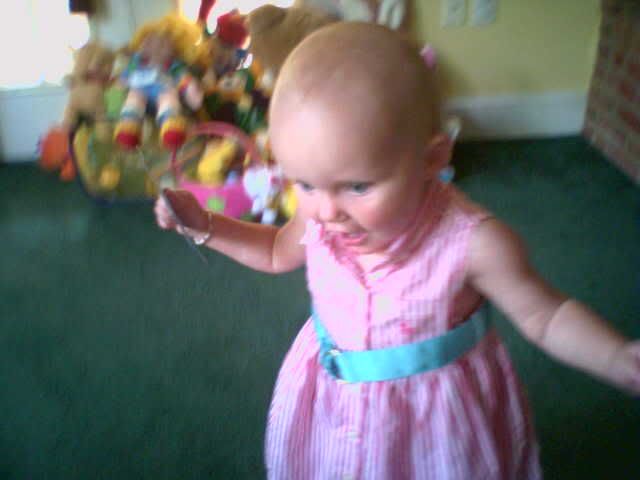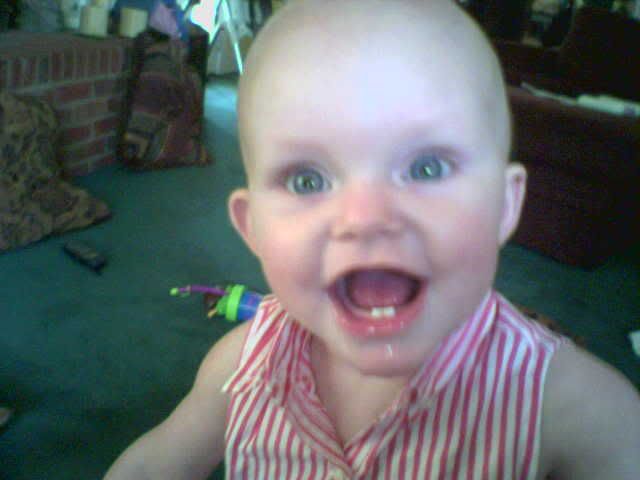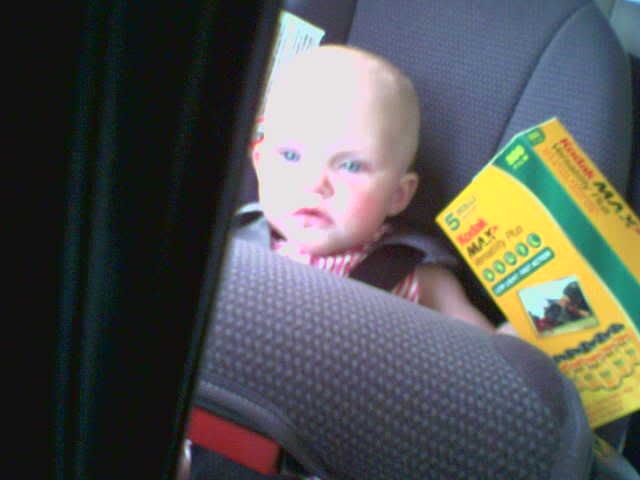 That's Zoeyiuyqmpnq's favorite toy/food...a box.
See. That's how much she ate within about a minute.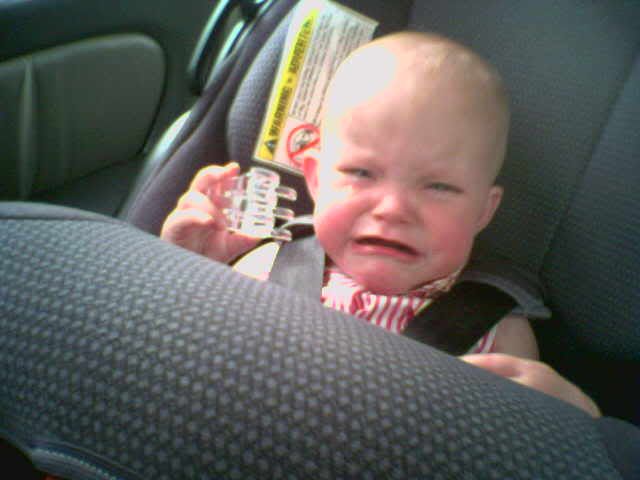 That's the result of taking her snack. I love that girl. Since I doubt I'll ever be able to ever be a father myself, I'm gonna spoil her like crazy.
So here is a picture or two of my sister, the mother.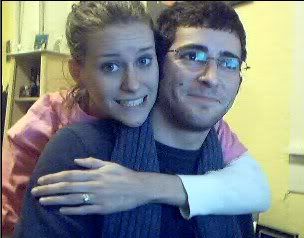 Not great pictures, but you get the idea.
So I had to put her picture up before this story. That way, we will all understand who this loverly little lamb is. After reading this, you may understand why I didn't want you to get a bad image of her stuck in your head.
It was a lovely summer day, last week, and all was right in the world. Birds were singing their twittery twit song. The bees were buzzering and flowers...flowering. Stacy was preparing to go...somewhere. We'll say Disney World since it is all shiny and happy and whatnot. Stacy decided to go to Disney World that day, so she began to get all dolled up for her husband, Chris, who was already dressed and waiting for her outside.
She peered out the window to see her Chris doing something to his truck. That doesn't sound very chipper. She peered out the window to see her Chris baking cookies in the truck.
"Golly," thought Stacy, "Today is absolutely perfect. There is only one thing that could make this day more perfect for both myself and Chris." She drew back the curtains, lifted her shirt, and flashed her Chris.
Unfortunately, Chris did not notice it. He was very busy baking his cookies. Stacy, not wanting her chest to go unnoticed, gently tapped the glass of the window, which went almost to the floor before you think she was doing some sort of jump kicky crap, with her foot. Her hands were busy holding up the shirt remember. He did not notice. So she tap tap tapped a little harder. Still no response. So she tried tapping harder still. Nope. Busy with the cookies. So she kicked the window rather hard. He noticed that time for she had kicked the window completely out.
"Fiddle sticks," Stacy said as Chris walked through the door. He looked down at her foot.
"You have a bo bo, honey muffin turtle dove."
"Oh poo! Well, let's go to the hospital then, I suppose." So they went to the hospital and a 78 year old doctor stitched up her foot.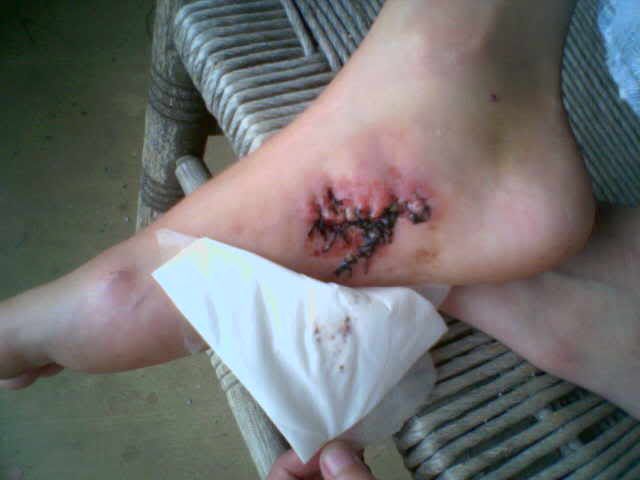 He did a really crap job of it too if you ask me or anyone who is not a total fucktard.
I asked Stacy why the hell she was kicking the window. She told me they were about to leave, and she was trying to flash him. I then had to ask, "Well, Stace, were you leaving your tits at home?" I think she just told me to shut up or something. I love my sis. She always manages to get into the weirdest situations.
Moving on, Father O talked a lady thru childbirth the other night. I was on the phone with him and a 911 call came in from a woman giving birth. He put down the phone, so I got to listen in on the whole thing. He asked if the baby was out. Only half was out. He asked if anything was blocking its airway and told her to scoop it out. He asked if she was having contractions. She said that she did not know. Oh yea, she was paralyzed too. So yea the baby was born and all. It was the craziest thing in the world. Unfortunately, the baby did not live. It is sad really, but...well I guess there is no "but." Oh wait, Father O just told me that the baby lived. He was misinformed before. So all is right once more.
What else? Oh yea. This is minor, but at work, we have leeches. They are apparently extremely expensive and are for medical use. I had to carry a jar of them to one of the floors the other night. I guess they felt the heat from my hand because they all, well, leeched onto the side of the jar where I was holding them. They freak me out. That's the first time I have ever had to deal with them in five years. Actually the second. Both were last week, but I only took them the second time. The first I made Tommie do it. Leeches are creepy as hell.
Oh yea. I discovered this awesome website for online games. Actually it is theis guy Jay's blog, but it is a gaming blog with tons of kick ass games on it. I have the link below and on the sidebar. Well the side bar that is currently taking a vacation at the bottom of the screen. His is the first in the list. The others are recently discovered and rediscovered sites of interest. The Dark Room...you MUST check out. It is incredible. Actually, it is bigger than that, but that is the biggest world I'll use to describe it as I am tired of writing now. The Asylum...well just check that one out too. It's great if you ever want to shrink someone's head.
Oh oh oh! One final note. Here's a picture or four of the completed Alice sculpture I did. It's been complete for awhile now. I just never got around to posting a picture of it.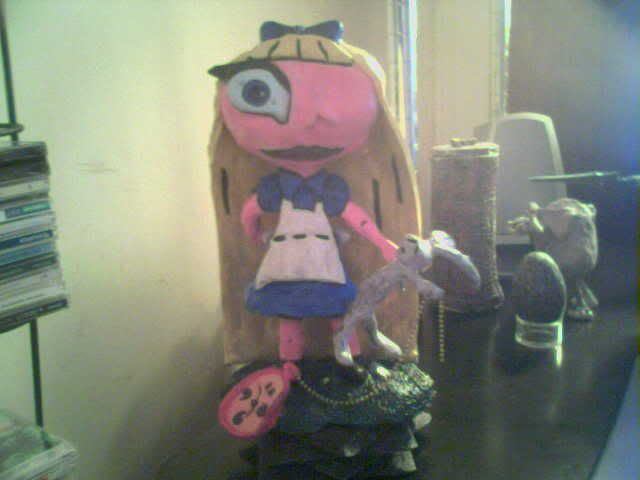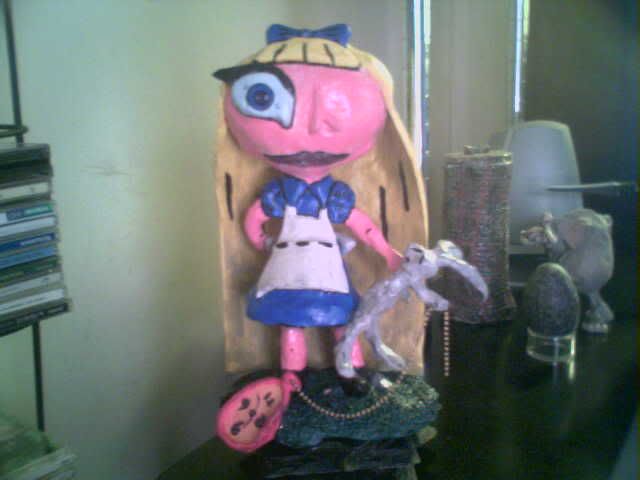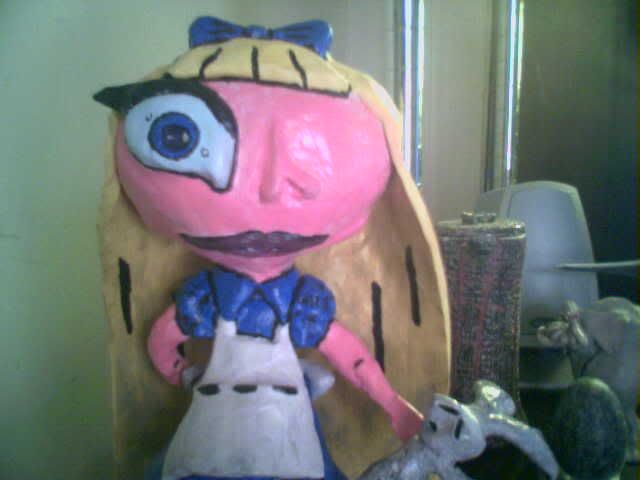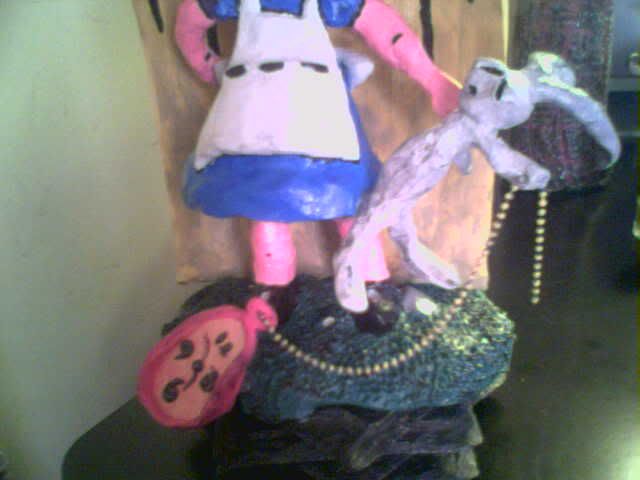 jay is
Exmortis
Escape the Room
Tokyo Plastic
The Dark Room
My Pet Skeleton
Schmancy Toys
The Asylum
Later Consuela.